Built-in WAN Acceleration
Maximize data transfer over the WAN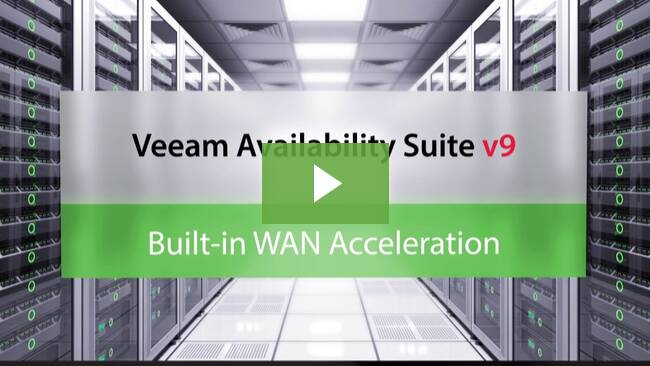 Built-in WAN Acceleration dramatically reduces the bandwidth required for transferring backups and replicas over the WAN. This eliminates the need to acquire additional network bandwidth or deploy a general-purpose WAN accelerator appliance for fast off site backup and replication.
Built-in WAN Acceleration is available in Veeam® Backup & Replication™ Enterprise Plus Edition
Product Overview
What's New in 9.5 (ONE)
Editions comparison
What's New in 9.5 (Backup)
Get your VMs off site up to 50x faster
Built-in WAN Acceleration utilizes global caching, variable block length data fingerprinting and traffic compression to significantly reduce bandwidth requirements, while multiple WAN optimization ensures that your available bandwidth is leveraged to its fullest potential. Best of all, there are no appliances to deploy, virtual machine (VM)- or host-based agents to install, or network infrastructure changes to make. Veeam's Built-in WAN Acceleration:
Helps get VMs off site up to 50 times faster than transferring raw data
Minimizes bandwidth consumption when copying backups and making replicas over the WAN
Supports unreliable and high latency network connections
Requires no changes to the existing network infrastructure
What is a WAN accelerator?
A WAN accelerator reduces the amount of data that needs to flow back and forth across the WAN by using caching and data compression techniques. Basically, a WAN accelerator works by caching duplicate files (or parts of files) so they can be referenced in global cache instead of having to be sent across the WAN again. WAN accelerators effectively trade off network I/O for disk I/O, thus significantly improving the performance of data transfers over the network in situations when bandwidth is the primary bottleneck.
Offsite storage flexibility
Setting up backup or replication jobs to a remote site over the WAN has never been so easy. Veeam's Built-in WAN Acceleration works hand-in-hand with Backup Copy jobs and replication from a backup, enabling implementation of proper offsite storage policies without requiring extra backups, copy scripts or expensive hardware supporting efficient storage-based replication. And in the event of network disconnects, the transfer resumes without data loss.
This solution is tailor made for use in virtual environments. By efficiently producing restore points of selected VMs on different backup storage resources and in disaster recovery (DR) sites, virtual environments can be protected off site with added flexibility. For example, retention policies can be implemented to address specific archival requirements, such as weekly, monthly, quarterly and annual backup copies.
Whether considering multi-site protection or BC/DR preparedness, one of the great blockers is the inability to move enough data across a WAN, affecting RPO/RTO goals and ultimately preventing most companies from realizing their protection goals. With continued innovations like optimized WAN transmission and its approach in leveraging hardware snapshots, Veeam continues to find new areas of evolution for their data protection solution.
Watch product demo
Live or recorded session
with a Veeam System Engineer
Try now
Put Veeam in your lab
How to buy
Licensing options,
pricing and packaging