High-Speed Recovery
RTOs von weniger als 15 Minuten!
Backups ohne geeignete Wiederherstellungsoptionen sind wertlos. Veeam® Backup & Replication™ bietet über ein einziges imagebasiertes Backup eine Vielzahl von Möglichkeiten, die Sie dabei unterstützen, so gut wie allen Wiederherstellungsszenarios gerecht zu werden. Und das Beste daran: Mit Veeam ist sichergestellt, dass Sie genau das erhalten, was Sie benötigen – Wiederherstellung und e-Discovery von virtuellen Maschinen (VMs), auf Dateiebene und von Anwendungsobjekten – und zwar genau dann, wenn Sie es benötigen, mithilfe der agentenlosen, benutzerfreundlichen und assistentengesteuerten Benutzeroberfläche.
Direct Restore to Microsoft AzureNEU
Cloud-Wiederherstellung für ALLE Veeam-Backups
Direct Restore to Microsoft Azure ermöglicht die Cloud-Wiederherstellung für Veeam-Backups für eine optimale Ressourcenzuweisung und Kostenminimierung. Mit dieser Lösung können Sie Ihre internen Windows- und Linux-basierten VMs, physischen Server und Endpoint-Geräte ganz einfach über eine automatisierten P2V- oder V2V-Umwandlung in Azure wiederherstellen oder in Azure migrieren.
Sie können Ihre Backups direkt in Microsoft Azure wiederherstellen. So profitieren Sie mit Microsoft Azure als On-Demand Cloud-Rechenzentrum für Disaster Recovery (DR) von einer optimalen Ressourcenzuweisung mit allen Vorteilen der flexiblen und skalierbaren Cloud-Ressourcen von Azure.
Instant VM Recovery
Wiederherstellung einer ausgefallenen VM in weniger als 2 Minuten!
Mit Instant VM Recovery™ können Sie alle virtuellen Anwendungen auf VMware vSphere oder Microsoft Hyper-V direkt aus dem Backup heraus ausführen. Statt Ihre Benutzer warten zu lassen, während Sie den Storage bereitstellen, das Backup extrahieren und in die Produktivumgebung kopieren, können Sie einfach eine VM mit der patentierten vPower®-Technologie von Veeam™ starten. Dann verschieben Sie die VM mit VMware Storage vMotion, Hyper-V Storage Migration oder Quick Migration von Veeam™ zurück in das Produktivsystem.
Viele Anbieter behaupten zwar, eine VM schnell wiederherstellen zu können. Es gibt aber große Unterschiede bei den entsprechenden Lösungen. Instant VM Recovery von Veeam™:
bietet eine marktführende Technologie, die sich bei mehreren zehntausend Kunden weltweit bewährt hat
unterstützt sowohl vSphere als auch Hyper-V und funktioniert mit allen Speichertypen
erfordert keinerlei zusätzliche Lizenzierung für VMware Storage vMotion
Weitere Informationen zu Instant VM Recovery
Wir wussten anfangs noch nicht, dass die Funktion Instant VM Recovery von Veeam™ uns später nach dem Brand in unserer Niederlassung in Corby, Großbritannien, den Tag retten sollte.
Veeam Explorers
eDiscovery und granulare Wiederherstellung
Die Wiederherstellung von Anwendungsobjekten ist viel schneller und einfacher. Konzentrieren Sie sich genau auf die Inhalte, die wiederhergestellt werden müssen, und führen Sie die Wiederherstellung direkt aus Ihren Backups aus:
Am häufigsten müssen wir Dinge wiederherstellen, die Benutzer versehentlich in Microsoft Exchange gelöscht haben. Mit Veeam können wir innerhalb von Minuten nach den Benutzer-Postfächern suchen, die betreffenden Objekte (in der Regel E-Mails) ausfindig machen und wieder in den Postfächern herstellen.
Instant File-Level Recovery
Wiederherstellung von Dateien direkt aus einem Backup
Stellen Sie Dateien und Ordner direkt aus einem Backup, auf Image-Ebene, wieder her – ohne zuvor virtuelle Datenträger extrahieren zu müssen. Führen Sie die Wiederherstellung von Dateien von Windows- und Linux-VMs oder von einem der 17 weiteren unterstützten Gastdateisysteme aus.
Veeam Backup & Replication ist einfach unglaublich schnell. VM-Backups wurden um mehr als 50 Prozent schneller … Die VM-Wiederherstellung dauert weniger als fünf Minuten … und die Wiederherstellung einzelner Objekte ist 10x schneller.
KOSTENLOS
Veeam Availability Suite 9.5
30 Tage unlimitierte Nutzung aller Features!
U-AIR (Universal Application-Item Recovery)
Wiederherstellung von Anwendungsobjekten ohne Agenten
Stellen Sie einzelne Objekte aus JEDER virtualisierten Anwendung ohne Agenten, zusätzliche Backups oder Softwaretools wieder her. Der U-AIR-Assistent hilft Ihnen beim Starten Ihrer Anwendungen vom Backup-Wiederherstellungspunkt und der Extrahierung von genau den benötigten Objekten mithilfe von nativen Anwendungstools – ohne dass spezielle Backup-Agenten benötigt werden oder zusätzliche Lizenzgebühren anfallen.
Mehr erfahren
Indizierung und Suchfunktion für Dateien von Gastbetriebssystemen
Schnelle Identifizierung und Wiederherstellung von Dateien
Mit Veeam Enterprise Manager können Sie nach Gastbetriebssystemdateien in VM-Backups suchen und diese über einen Klick wiederherstellen. Wenn diese Option aktiviert ist, erstellt Veeam Backup & Replication einen Index von VM-Gastbetriebssystemdateien und ermöglicht Ihnen die Suche nach Windows-Gastdateien in den VM-Backups. Sobald Sie die benötigte Datei gefunden haben, können Sie diese sofort entweder am ursprünglichen Speicherort wiederherstellen oder auf ein lokales Gerät herunterladen – einfach über einen Mausklick.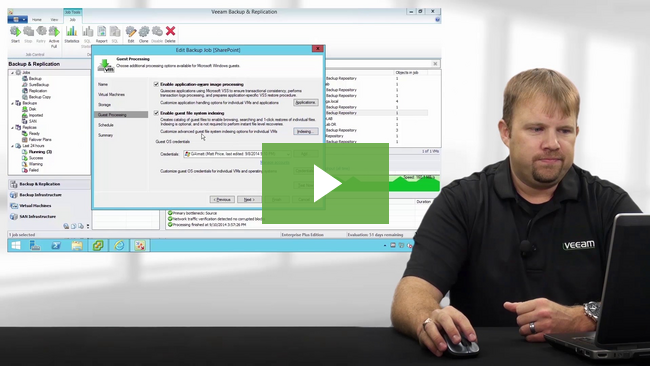 1-Click Restore
Self-Service-VM und Dateiwiederherstellung
Mit den neuen Delegierungsoptionen können IT-Abteilungen den Managern von Geschäftsbereichen eine sichere Berechtigung zur Wiederherstellung ihrer eigenen Dateien und VMs erteilen. Mit der Wiederherstellung betraute Helpdesk-Mitarbeiter benötigen darüber hinaus keine zusätzliche Genehmigung – sie können ganz einfach nach Dateien suchen und diese an ihrem ursprünglichen Speicherort wiederherstellen, ohne Zugriff auf die Inhalte dieser Dateien zu erhalten.
Verwenden Sie für die Self-Service-Wiederherstellung von VMs und Gastdateien 1-Click Restore – ohne:
Direkte Netzwerkverbindungen zur VM
Benutzerberechtigungen auf dem Host oder der VM
Agenten in der VM
Eine der Funktionalitäten, die wir sehr schätzen, ist 1-Click Restore. Damit können wir komplette VMs und einzelne Dateien wiederherstellen und haben die Möglichkeit, Wiederherstellungsaufgaben an bestimmte Benutzer zu delegieren.
Backup und Wiederherstellung für vCloud Director
Vollständige Integration für vCD
Mit der VMware vCloud Director-API erweitert Veeam die Unterstützung von vCloud Director um die Sicherung und Wiederherstellung von vCloud-vApps und -VMs einschließlich aller Metadaten und Attribute. Die Wiederherstellung erfolgt direkt in denselben oder anderen vCloud Director-Deployments mit Unterstützung von Fast-Provisioning.
Mit der erweiterten Unterstützung von VMware vCloud Director werden Managementaufgaben vereinfacht und die Effizienz für Serviceprovider mit IaaS-Angeboten (Infrastructure-as-a-Service) durch Self-Service Backup- und WiederherstellungsfunktionalitätenNEU erhöht.
… Die solide Integration von Veeam kombiniert mit der Expertise von GreenPages beim Design von vCloud Director- und vCloud Suite-Lösungen ist eine gewinnbringende Kombination für unsere gegenseitigen Kunden. Wir freuen uns sehr, dass wir Veeam in Zukunft noch stärker in unsere vCloud Director-Deployments einbinden können.
Online-Schulungsvideos ansehen
Live oder aufgezeichnete Sitzung mit Veeam System Engineer
Jetzt testen
Testen Sie Veeam in Ihrer Lab-Umgebung
Kaufinformationen
Lizenzierung, Preise und Produktpakete