Ultrasnel herstel
Realiseer RTO's van < 15 minutes!
Back-up stelt niets voor zonder herstel. Vanuit één image-based back-up biedt Veeam® Backup & Replication™ een groot aantal opties waarmee u vrijwel elk herstelscenario kunt uitvoeren. Bovendien garandeert Veeam dat u precies krijgt wat u nodig heeft: eDiscovery en herstel van virtuele machines (VM's), bestanden en applicatie-items. En dat allemaal op het juiste moment via de agentless, gebruiksvriendelijke en wizardgestuurde gebruikersinterface.
Direct Restore naar Microsoft AzureNIEUW
Onderdeel van Veeam Disaster Recovery in Microsoft Azure
Direct Restore to Microsoft Azure biedt cloudherstel voor Veeam-back-ups om de resourcetoewijzing te optimaliseren en de kosten tot het minimum te beperken. Met deze feature kunnen gebruikers on-premises VMware- en Hyper-V-VM's, fysieke servers en endpoints herstellen of migreren naar de cloud met behulp van een geautomatiseerd P2V- of V2V-conversieproces.
Omdat het mogelijk is om uw back-ups rechtstreeks naar Microsoft Azure te herstellen, kunt u de resourcetoewijzing optimaliseren en Microsoft Azure gebruiken als een on-demand clouddatacenter voor disaster recovery (DR), waarbij u ten volle kunt profiteren van de flexibele en schaalbare cloudresources van Azure.
Veeam Disaster Recovery in Microsoft Azure
Direct Restore to Microsoft Azure werkt nauw samen met Veeam PN for Microsoft AzureNIEUW, een gratis oplossing die is ontwikkeld om de installatie van een DR-site in Azure te vereenvoudigen en te automatiseren met behulp van lightweight SDN (Software Defined Networking). Gezamenlijk leveren de twee oplossingen Veeam Disaster Recovery in Microsoft Azure.
Instant VM Recovery
Herstel een uitgevallen VM binnen 2 minuten!
Met Instant VM Recovery™ kunt u elke gevirtualiseerde applicatie op VMware vSphere of Microsoft Hyper-V uitvoeren rechtstreeks vanaf de back-up. In plaats van dat u gebruikers laat wachten terwijl u opslagruimte creëert, de back-up extraheert en deze naar productie kopieert, kunt u eenvoudig een VM starten met de gepatenteerde vPower®-technologie van Veeam. Hierna gebruikt u VMware Storage vMotion, Hyper-V Storage Migration of Veeam's eigen Quick Migration om de VM terug te zetten naar de productieopslag.
Hoewel tal van leveranciers beweren dat ze een VM snel kunnen herstellen, zijn niet alle VM-hersteloplossingen even effectief. Instant VM Recovery van Veeam:
Levert 'first-to-market'-technologie die zich bij tienduizenden klanten wereldwijd heeft bewezen
Ondersteunt zowel vSphere als Hyper-V en is opslagonafhankelijk
Vereist geen aanvullende VMware Storage vMotion-licentiëring
Lees meer over Instant VM Recovery
We wisten toen nog niet dat Veeam's Instant VM Recovery-functie ons later uit de problemen zou helpen na een brand op onze vestiging in het Engelse Corby.
Veeam Explorers
eDiscovery en granulair herstel
Herstel van applicatie-items gaat nu een stuk sneller en eenvoudiger. Beperk u precies tot wat u nodig heeft om afzonderlijke items rechtstreeks vanaf uw back-ups te herstellen en terug te zetten met:
De meest gebruikelijke herstelactie is van items die gebruikers per ongeluk in Microsoft Exchange verwijderen. Met Veeam zoeken we naar de postvakken van de gebruikers, zoeken we de items (meestal e-mails) en zetten we die binnen enkele minuten terug naar hun postvakken.
Instant-File-level-Recovery
Herstel bestanden rechtstreeks vanaf een back-up
Herstel guest-besturingssysteembestanden en -mappen in een handomdraai rechtstreeks vanaf een back-up op imageniveau, zonder dat u de virtuele schijven eerst hoeft te extraheren. Herstel bestanden vanuit Windows- en Linux-VM's of een van de 17 ondersteunde guest-bestandssystemen.
De totale snelheid die we met Veeam Backup & Replication halen, is ongelofelijk. De snelheid waarmee we back-ups maken van VM's is meer dan 50 procent gestegen ... het herstellen van een VM kost nog geen vijf minuten ... en het terugzetten van één item gaat 10 keer sneller.
GRATIS
Veeam Availability Suite 9.5
Geen functiebeperkingen gedurende 30 dagen!
U-AIR (Universal Application-Item Recovery)
Herstel applicatie-items zonder agents
U kunt items vanaf ELKE gevirtualiseerde applicatie herstellen zonder agents, extra back-ups of softwaretools. De U-AIR-wizard helpt u om uw applicatie vanuit het herstelpunt te starten en met native applicatieprogramma's te extraheren wat u nodig hebt. Er zijn geen speciale back-upagents of extra licentiekosten vereist.
Meer informatie
Guest-besturingssysteembestanden indexeren en zoeken
Bestanden snel lokaliseren en herstellen
Met Veeam Enterprise Manager kunt u in VM-back-ups zoeken naar guest-besturingssysteembestanden en deze met één klik herstellen. Wanneer deze optie is ingeschakeld, maakt Veeam Backup & Replication een index van VM-guest-besturingssysteembestanden en kunt u in de VM-back-ups zoeken naar Windows-guestbestanden. Zodra u het gewenste bestand hebt gevonden, kunt het onmiddellijk met één klik terugzetten naar zijn oorspronkelijke locatie of het bestand downloaden naar een lokale machine.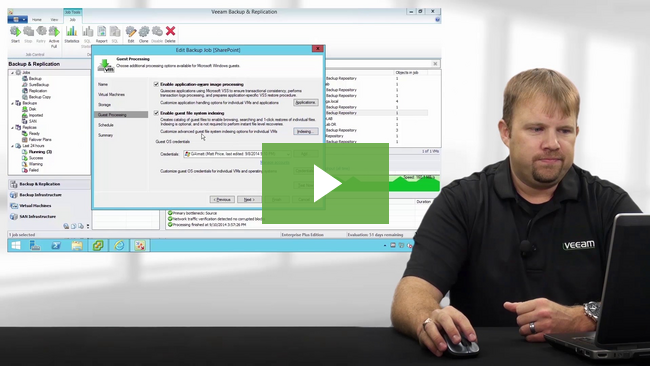 1-Click Restore
VM- en bestandsherstel door de gebruiker zelf
Met de nieuwe machtigingsopties kunnen IT-afdelingen managers van bedrijfsunits veilig hun eigen bestanden en VM's laten herstellen. Bovendien hebben gemachtigde helpdeskmedewerkers geen extra bevoegdheden nodig. Ze kunnen bestanden gemakkelijk opzoeken en naar hun oorspronkelijke locatie terugzetten zonder dat ze toegang krijgen tot de inhoud van de bestanden.
Met 1-Click Restore kunnen VM's en guest-bestanden door de gebruiker zelf worden teruggezet, zonder dat ze hoeven te beschikken over:
Rechtstreekse netwerkverbinding met de VM
Gebruikersbevoegdheden op de host of VM
Een agent in de VM
Een van de features die we graag gebruiken is 1-Click Restore. Hiermee kunnen we complete VM's en afzonderlijke bestanden terugzetten en kunnen we bovendien herstelfuncties delegeren aan bepaalde gebruikers
Back-up- en herstel voor vCloud Director
Volledige integratie voor vCD
Met de VMware vCloud Director API biedt Veeam nu ondersteuning voor vCloud Director, inclusief back-ups en herstel van metagegevens en attributen van vCloud vApps en VM's, en kunnen gegevens worden teruggezet naar dezelfde of andere vCloud Director-implementaties, met ondersteuning voor fast-provisioning.
Verbeterde ondersteuning voor VMware vCloud Director vereenvoudigt het beheer en verhoogt de efficiency voor serviceproviders die IaaS (Infrastructure as a Service) aanbieden doordat gebruikers de beschikking krijgen over functies voor self-service back-up en herstelNIEUW.
… De naadloze integratie van Veeam, gecombineerd met de expertise van GreenPages op het gebied van het ontwerpen van vCloud Director- en vCloud Suite-oplossingen, wordt een winnende combinatie voor onze gemeenschappelijke klanten. We zijn heel blij dat we Veeam verder kunnen integreren in onze vCloud Director-implementaties en deze hierdoor kunnen verbeteren.
Bekijk de online trainingsvideo's
Live of opgenomen sessie met systeemengineer van Veeam
Nu proberen
Gebruik Veeam in uw lab
met gratis 30-dagen trial
Kopen
Licentieopties,
prijzen en pakketten