Salesforce Data Loss is More Common Than You Think
Only 24%
of organizations are completely confident they could restore their Salesforce data after a bad import.
39 Hours
The average time it would take an organization to recover 100 Salesforce accounts and their related records.
Only 11%
of IT professionals have reached their Salesforce data retention mandates.
81%
The amount of IT experts who are concerned about human‑error‑related Salesforce data loss.
Source: Veeam Salesforce Protection Trends Report
Why back up Salesforce?
Organizations rarely think about backing up their Salesforce data until it is too late. Eventually, there will be some sort of incident - an accidental deletion, data loader mishap, or integration error - that will cause business‑critical data loss. When this happens to you, how quickly will you be able to recover?
Protecting Salesforce is a Shared Responsibility. Even though Salesforce manages the infrastructure, it is your responsibility to protect your organization from Salesforce data loss and corruption.
Salesforce agrees with this: "It is important for Salesforce customers to develop a routine data backup strategy as part of their overall data management and security model."
Veeam Backup for Salesforce makes backup and recovery a breeze. Don't wait until it's too late; run backups and protect your Salesforce data and metadata in minutes.
Salesforce backup perception versus reality.You need to back up Salesforce data and metadata.
Capabilities
Confidently Backup and Restore Your Salesforce Data
Salesforce backup and recovery from Veeam gives you what others can't: complete access and control. You control your backups, and you choose the storage.
Salesforce‑native
Purpose‑built to backup and restore Salesforce data and metadata.
Fast and Flexible Recovery
Recover Salesforce records, hierarchies, fields, files and metadata.
Secure Your Data
Own your data and run your backup environment anywhere: on‑premises, in AWS, in Microsoft Azure and more.
Salesforce Business Applications
Extending support of the Salesforce platform, including Salesforce Government and Education Clouds, Field Service, CPQ, Person Accounts and managed packages.
Custom Scheduling
Set granular backup schedules and retention settings at the object level.
Sandbox Seeding
Restore to your sandbox with data from production or from another sandbox.
Salesforce SSO and MFA
Enable role‑based access for backup and restore operators via Salesforce to simplify and improve the security of your operations.
Simplified Management
Manage backup policies for several Salesforce organizations from one console.
Incremental Changes
With incremental sync and flexible scheduling, you can back up your Salesforce data almost continuously.
Simple and Easy‑to‑Use UI
Click, click, click and done. Run backup policies and restore jobs in minutes.
See and Compare
See versions of records and metadata and quickly compare them with production.
Restore Hierarchy
Granularly restore linked child objects to any record. Parent records can also be restored.
Pricing and packaging
Veeam keeps it simple with a licensing structure that aligns with your Salesforce usage.
Veeam Backup for Salesforce is available in 1- to 5‑year annual subscriptions. Licenses are sold per Salesforce user license (with a required minimum purchase of 10 licenses) and include Production 24.7.365 Support. Licensing of 100% of active Salesforce users is required.
Salesforce requires API access included in Salesforce Enterprise and Unlimited editions, and can also be purchased separately with the Professional edition.
Promotional Pricing
Only for Veeam current customers First year subscription
1,001+ Users: $25,000 USD
301 - 1,000 Users: $10,000 USD
151‑300 Users: $5,000 USD
Conditions apply*
Volume Pricing
1‑5 year subscription
1,001 - 2,500 Users: $2.60 USD
301 - 1,000 Users: $2.80 USD
1‑300 Users: $3 USD
Conditions apply*
Custom Pricing
1‑5 year subscription
* Promotional offer pricing is listed as one flat rate price covering the entire Salesforce environment. Volume pricing is licensed per Salesforce user.
Please contact us for geographical pricing.
Veeam is the
#1 Market Leader
+75
Market-leading Net Promoter Score
Industry Recognition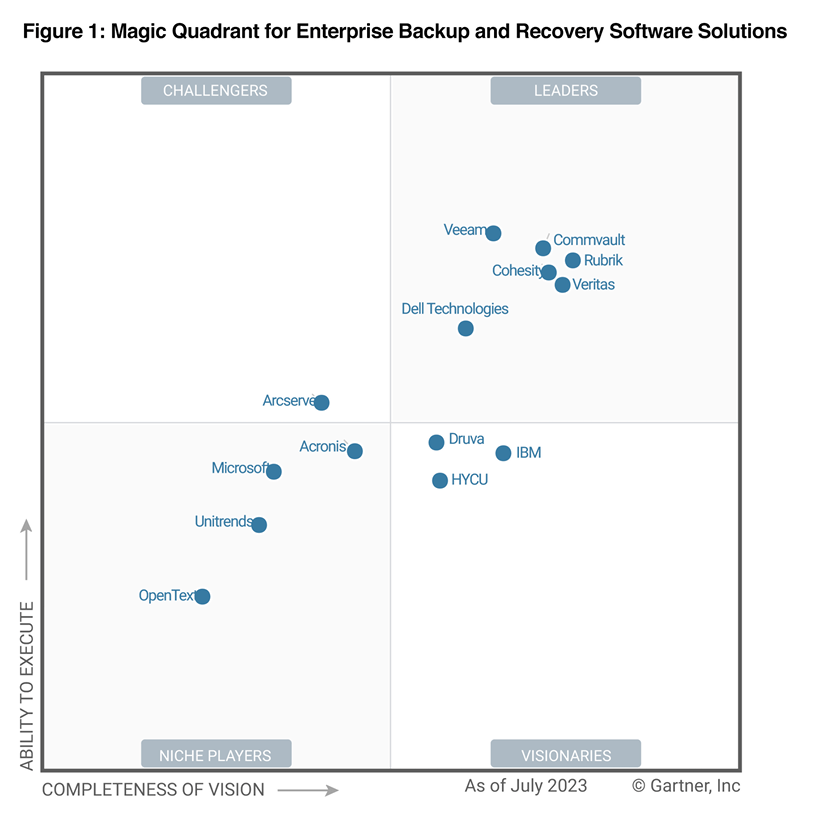 Gartner® Magic Quadrant™
4th consecutive year as highest in Ability to Execute