What's new in Veeam Data Platform?
Veeam® Data Platform advances enterprise‑grade recovery capabilities that ensure
confidence in the face of disaster or cyberattacks across the hybrid cloud.
NEW direct‑to‑object storage, expanded cloud‑native support and trusted immutability everywhere for greater
ransomware protection allows you to protect more and recover faster with the efficiency of working in a single platform.
Protect servers, workstations and laptops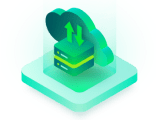 Secure Backup & Fast Recovery
Fast, application‑aware, image‑based backups for VMware, Hyper‑V and more!
Bulletproof ransomware protection with

immutable backups

functionality
Lower costs with

archive‑to‑cloud storage options

without blowing up your monthly bill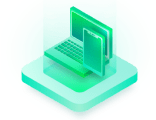 Remote Worker Data Protection
Endpoint protection:

back up to a local cache resume once the connection has been reestablished

Daily schedule:

set up backup events daily or based on user activity

CryptoLocker protection

to protect backup files residing on USB based backup storage
Veeam Data Platform
We keep businesses running.
We provide organization with resiliency through a broad platform that provides data security, data recovery and data freedom for their hybrid cloud.
Data Security
Multi‑layered security gives confidence that your data is always protected
Data Recovery
Recover exactly what you need, where and when you need it
Data Freedom
Protect all your data, anywhere, any way, with zero lock‑in
AWS
Azure
Google Cloud
Kubernetes
VMware vSphere
Microsoft Hyper-V
Nutanix AHV
Red Hat Virtualization
Windows
Linux
macOS
UNIX
NAS
Microsoft
Oracle
SAP HANA
PostgreSQL
Kubernetes
Microsoft 365
Microsoft Teams
Salesforce
On-Premises
In the Cloud
XaaS
Trusted by 450k+ customers worldwide
What Our Customers are Saying on TrustRadius
I use Veeam Backup & Replication to back up my entire Infrastructure, both physical and virtual. I also use it to move virtual servers off Nutanix to VMware with very little effort. It's the only software I have found that does it.
Gregory Johnson, Senior Analyst
We currently utilize Veeam Backup & Replication for our system backups for our Virtual Environment, as well as a few physical servers. We utilize both the backup and the replication feature, create immutable copies, and replicate both to a cloud environment as well as a 2nd datacenter.
Manager in Information Technology