Ingebouwde WAN-acceleratie
Gegevensoverdracht via het WAN maximaliseren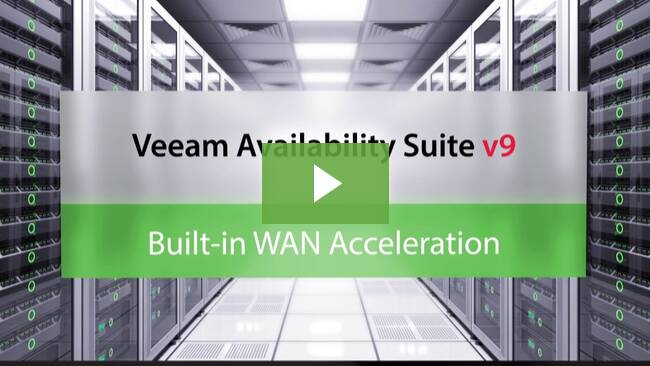 Ingebouwde WAN-acceleratie zorgt voor een aanzienlijke vermindering van de bandbreedte die nodig is om back-ups en replica's via het WAN te verzenden. U hebt geen extra bandbreedte nodig en u hoeft geen universele WAN-acceleratortoepassing te gebruiken voor snelle offsite back-up en replicatie.
Ingebouwde WAN-acceleratie is beschikbaar in Veeam® Backup & Replication™ Enterprise Plus Edition
Kopieer uw VM's tot 50x sneller naar een andere locatie
Ingebouwde WAN-acceleratie maakt gebruik van global caching, data-fingerprinting van variabele bloklengten en compressie van dataverkeer. Hierdoor wordt de vereiste bandbreedte aanzienlijk verminderd, terwijl uw beschikbare bandbreedte dankzij meervoudige WAN-optimalisatie optimaal wordt benut. Bovendien hoeft er geen apparatuur te worden gebruikt en hoeven er geen VM- of hostagents te worden geïnstalleerd of netwerkinfrastructuurwijzigingen te worden aangebracht. Veeam's ingebouwde WAN-acceleratie:
Kopieert uw VM's naar een externe locatie tot 50 keer sneller dan onbewerkte gegevens worden overgebracht
Minimaliseert het bandbreedteverbruik bij het kopiëren van back-ups en het maken van replica's via het WAN
Ondersteunt netwerkverbindingen die onbetrouwbaar zijn en een hoge latency hebben
Vereist geen wijzigingen in de bestaande netwerkinfrastructuur
Wat is een WAN-accelerator?
Een WAN-accelerator vermindert de hoeveelheid gegevens die in het WAN heen en weer wordt gestuurd, en maakt hiervoor gebruik van caching- en datacompressietechnieken. In feite komt het erop neer dat een WAN-accelerator dubbele bestanden (of gedeelten van bestanden) in cache opslaat zodat ernaar kan worden verwezen en ze niet nogmaals via het WAN hoeven te worden verzonden. WAN-accelerators benutten op efficiënte wijze schijf-I/O in plaats van netwerk-I/O. Zo vindt de gegevensoverdracht via het netwerk veel sneller plaats in omgevingen waar bandbreedte het grootste knelpunt is.
Externe opslagflexibiliteit
Het instellen van back-up- of replicatietaken naar een externe locatie via het WAN was nog nooit zo eenvoudig. Veeam's ingebouwde WAN-acceleratie werkt nauw samen met Backup Copy-taken en replicatie vanaf een back-up, zodat u de juiste beleidsregels voor offsite opslag kunt implementeren zonder dat u extra back-ups, kopieerscripts of dure hardware nodig hebt die efficiënte opslaggebaseerde replicatie ondersteunt. En als netwerkverbindingen worden onderbroken, wordt de overdracht hervat zonder gegevensverlies.
Deze oplossing is bij uitstek geschikt voor gebruik in virtuele omgevingen. Door op een efficiënte manier herstelpunten van geselecteerde VM's te maken op verschillende back-upopslagresources en op DR-locaties (disaster recovery), kunnen virtuele omgevingen offsite flexibeler worden beveiligd. Zo kunnen beleidsregels voor retentie worden geïmplementeerd om te voldoen aan specifieke archiveringsvereisten, zoals wekelijkse, maandelijkse, driemaandelijkse en jaarlijkse back-upkopieën.
Of we nu kijken naar de beveiliging van meerdere locaties of de gereedheid voor BC/DR, een van de grote knelpunten is het onvermogen om voldoende data via een WAN te verzenden. Dit heeft een nadelige invloed op RPO/RTO-doelstellingen en belemmert de meeste bedrijven uiteindelijk om hun beveiligingsdoelen te verwezenlijken. Met voortdurende innovaties, zoals geoptimaliseerde WAN-overdracht en het gebruik van hardwaresnapshots, blijven de specialisten van Veeam nieuwe mogelijkheden vinden om hun oplossing voor gegevensbeveiliging verder te ontwikkelen.
Bekijk de online trainingsvideo's
Live of opgenomen sessie met systeemengineer van Veeam
Nu proberen
Gebruik Veeam in uw lab
met gratis 30-dagen trial
Kopen
Licentieopties,
prijzen en pakketten