Geverifieerde herstelbaarheid
Automatisch testen van de herstelbaarheid van back-ups en replica's
Bij back-up draait alles om herstel. IT-managers melden echter dat maar 5% van hun back-ups wordt getest*.
Met Veeam® wordt de herstelbaarheid van AL uw virtuele machines getest. Veeam Backup & Replication™ garandeert herstel van elk bestand, elke toepassing of virtuele server door geautomatiseerde herstelverificatietests uit te voeren, elke keer weer. Met SureBackup® en SureReplica hoeft u zich geen zorgen te maken over de herstelbaarheid. Dit is namelijk volledig getest!
* Elk kwartaal testen organisaties gemiddeld maar 5,26 procent van hun back-ups. Dit betekent dat de overgrote meerderheid van de back-ups niet wordt geverifieerd en het dus kan laten afweten.
SureBackup
Verifieer de herstelbaarheid van uw back-ups
Met SureBackup kunt u de herstelbaarheid van elke back-up en elke VM (virtuele machine) automatisch verifiëren, elke keer weer. SureBackup start VM's automatisch in een geïsoleerde Virtual Lab-omgeving, voert een aantal tests uit en verzendt een statusrapport naar uw postvak, zodat u weet dat uw VM's op elk moment kunnen worden hersteld.
Om te controleren of een VM-back-up kan worden hersteld, gaat SureBackup als volgt te werk:
De VM wordt, rechtstreeks vanaf het back-upbestand, automatisch in een geïsoleerde omgeving opgestart. Dit bespaart u vele uren omdat concurrerende oplossingen veel meer tijd nodig hebben om volledig VM-herstel uit te voeren.
Er wordt een reeks tests uitgevoerd op de VM, zoals heartbeat, netwerk- en applicatiestatus.
De VM wordt uitgeschakeld.
Er wordt een VM-back-upstatusrapport gemaakt.
De toegang tot de VM-back-up is alleen-lezen en wijzigingen worden verwijderd wanneer dit proces is voltooid.
Back-ups zijn zinloos als u niet vanaf de virtuele machines kunt herstellen wat u nodig hebt. We maken ons hier geen zorgen meer over omdat Veeam Backup & Replication de herstelbaarheid van elke back-up automatisch controleert.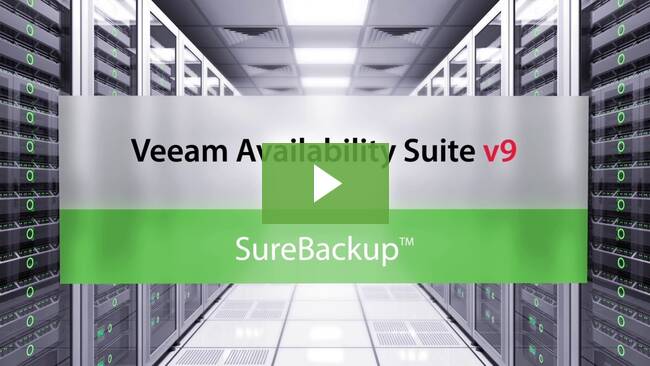 SureReplica**
Automatisch uw replica's verifiëren
Test elk herstelpunt in elke VM-replica automatisch op herstelbaarheid. SureReplica controleert gegevens op consistentie, verifieert de nauwkeurigheid van replicaconfiguraties en test deze op volledige betrouwbaarheid door ze in een geïsoleerd Virtual Lab op het gewenste herstelpunt uit te voeren.
Aangezien een VM-replica in wezen een exacte kopie is van een VM met een reeks herstelpunten, is het testproces anders dan bij het testen van VM-back-ups. SureReplica:
Start de VM-replica automatisch op het gewenste herstelpunt op in een geïsoleerde omgeving.
Voert een reeks tests uit op de VM, zoals heartbeat, netwerk- en applicatiestatus.
Schakelt de VM-replica uit.
Maakt een VM-replicastatusrapport.
Bekijk de online trainingsvideo's
Live of opgenomen sessie met systeemengineer van Veeam
Nu proberen
Gebruik Veeam in uw lab
met gratis 30-dagen trial
Kopen
Licentieopties,
prijzen en pakketten