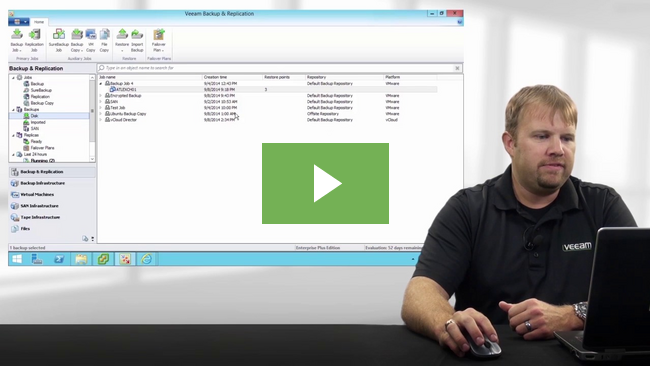 Dankzij Instant VM Recovery® is uw systeem altijd beschikbaar wanneer u dit nodig hebt. Gebruikers hoeven geen uren meer te wachten: Instant VM Recovery zet een virtuele machine onmiddellijk terug naar uw productieomgeving door de VM direct vanuit het back-upbestand uit te voeren. Zo kunt u:
Lage RTO's (Recovery Time Objectives) handhaven
Onderbrekingen minimaliseren
De systeemdowntime van cruciale productie-VM's tot een minimum beperken
Productoverzicht
Vergelijking van versies
What's New in 9.5 (ONE)
What's New in 9.5 (Backup)
Deze tool is gebruiksvriendelijk. Terwijl u opslagruimte creëert, extraheert u de VM-back-up, kopieert u deze naar de productie en start u een VM rechtstreeks vanuit de back-up opnieuw op. Met Veeam® kunt u een uitgevallen VM in slechts twee minuten herstellen!
Instant VM Recovery maakt gebruik van gepatenteerde vPower®-technologie om een VM-image op een vSphere- of Hyper-V-host te mounten rechtstreeks vanuit een gecomprimeerd en gedupliceerd back-upbestand.
Aangezien het niet nodig is om de hele VM vanuit de back-up uit te pakken en naar de productieopslag te kopiëren, kunt u de VM vanuit elk herstelpunt (incrementeel of volledig) in slechts minuten opnieuw starten, terwijl dit bij een normaal herstel uren duurt. Hierdoor wordt de hersteltijd aanzienlijk verminderd.
De back-upimage van de VM blijft alleen-lezen om de integriteit van de back-up te waarborgen. Wijzigingen worden apart opgeslagen en samengevoegd wanneer de VM weer naar de productieopslag wordt gemigreerd.
Met Instant VM Recovery van Veeam® kunnen we een VM direct vanuit een back-up herstellen in slechts enkele klikken. Iedereen in de IT-sector weet dat het in een noodsituatie echt belangrijk om een gebruiksvriendelijk product te hebben omdat het voor minder stress en paniek zorgt in een situatie die toch al zenuwslopend is.
Bekijk de online trainingsvideo's
Live of opgenomen sessie met systeemengineer van Veeam
Nu proberen
Gebruik Veeam in uw lab
met gratis 30-dagen trial
Kopen
Licentieopties,
prijzen en pakketten