Ripristini ad alta velocità
Raggiungete RTO inferiori a 15 minuti!
Il backup non è nulla senza il ripristino. A partire da un singolo backup a livello di immagine, Veeam® Backup & Replication™ offre un'ampia gamma di funzionalità che ti consentono di affrontare tutti gli scenari di ripristino. E ancor meglio, Veeam assicura esattamente ciò di cui hai bisogno - ripristino di macchine virtuali (VM), di file e di singoli elementi applicativi ed eDiscovery - quando ne hai bisogno, attraverso un'interfaccia utente agentless, facile da usare e dotata di una procedura guidata.
Direct Restore to Microsoft Azure NOVITÀ
Parte di Veeam Disaster Recovery in Microsoft Azure
Direct Restore to Microsoft Azure offre il ripristino nel cloud per i backup Veeam in modo da ottimizzare l'allocazione delle risorse e ridurre al minimo i costi. Questa funzionalità consente di eseguire ripristini e migrazioni nel cloud di endpoint, server fisici e VM VMware o Hyper-V on-premise, utilizzando un processo di conversione P2V o V2V automatizzato.
La possibilità di ripristinare i backup direttamente su Microsoft Azure consente di ottimizzare l'allocazione delle risorse e sfruttare Azure come data center cloud on-demand per il disaster recovery (DR), sfruttando al massimo le sue risorse in modo flessibile e scalabile.
Veeam Disaster Recovery in Microsoft Azure
La funzionalità Direct Restore to Microsoft Azure lavora a stretto contatto con Veeam PN for Microsoft AzureNOVITÀ, una soluzione leggera e gratuita progettata per semplificare e automatizzare la configurazione di un sito di DR in Azure attraverso software-defined networking (SDN). Insieme, le due soluzioni danno vita a Veeam Disaster Recovery in Microsoft Azure.
Maggiori informazioni su Veeam Disaster Recovery in Microsoft Azure
Instant VM Recovery
Recuperate una VM guasta in meno di 2 minuti!
Con Instant VM Recovery™ è possibile eseguire qualsiasi applicazione virtualizzata su VMware vSphere o Microsoft Hyper-V direttamente da ogni backup. Invece di far attendere gli utenti mentre ti occupi del provisioning dello storage, estrai il backup e lo copi in produzione, puoi semplicemente avviare una VM con la tecnologia brevettata vPower® di Veeam. E in seguito, puoi utilizzare VMware Storage vMotion, Hyper-V Storage Migration o lo strumento proprietario di Veeam™ Quick Migration per riportare la VM nello storage di produzione.
Se da un lato molti vendor si dichiarano in grado di ripristinare velocemente una VM, non tutte le soluzioni di ripristino della VM sono uguali. Instant VM Recovery di Veeam™:
È una tecnologia brevettata e lanciata sul mercato da Veeam, comprovata da decine di migliaia di clienti in tutto il mondo
Supporta vSphere e Hyper-V ed è storage agnostic
Non richiede una licenza VMware Storage vMotion aggiuntiva
Maggiori informazioni su Instant VM Recovery
Non potevamo immaginare che Instant VM Recovery di Veeam™ ci avrebbe salvati il giorno dell'incendio nella sede di Corby, nel Regno Unito.
Veeam Explorers
eDiscovery e ripristino granulare
Il ripristino a livello di elementi applicativi è diventato molto più facile e veloce. Mira esattamente a ciò che devi ripristinare e recupera direttamente singoli elementi applicativi dai backup con:
Il ripristino più comune presso le nostre aziende è quello degli elementi che gli utenti eliminano in modo accidentale in Microsoft Exchange. Grazie a Veeam, abbiamo la possibilità di effettuare ricerche nelle caselle di posta degli utenti, trovare gli elementi (di solito e-mail) e ripristinarli al loro posto nel giro di pochi minuti.
Instant File-Level Recovery
Ripristino dei file direttamente da un backup
Recuperate cartelle e file dell'OS guest al volo, direttamente da un backup a livello immagine, senza bisogno di estrarre prima i dischi virtuali. Recuperate i file da VM Windows e Linux, oppure da uno qualsiasi dei 17 file system guest supportati.
La velocità complessiva che otteniamo con Veeam Backup & Replication è incredibile. La velocità dei backup delle VM è aumentata di oltre il 50 percento... i ripristini delle VM richiedono meno di cinque minuti... e i ripristini dei singoli oggetti sono 10 volte più veloci.
GRATUITO
Veeam Availability Suite 9.5
Nessun limite di funzionalità per 30 giorni!
U-AIR (Universal Application-Item Recovery)
Ripristino agentless di elementi applicativi
Ripristinate singoli elementi da QUALSIASI applicazione virtualizzata, senza agenti, backup particolari o ulteriori strumenti software. La procedura guidata U-AIR vi aiuta ad avviare le applicazioni dal punto di ripristino e ad estrarre ciò di cui avete bisogno con gli strumenti nativi dell'applicazione, senza bisogno di agenti speciali per il backup e senza costi addizionali per le licenze.
Maggiori informazioni
Indicizzazione e ricerca dei file OS guest
Individuazione e recupero rapidi dei file
Veeam Enterprise Manager consente di cercare i file OS guest nei backup delle VM e di ripristinarli con un solo clic. Selezionando questa opzione, Veeam Backup & Replication crea un indice dei file OS guest della VM, consentendo di cercare i file guest Windows nei backup delle VM. Una volta trovato il file desiderato, è possibile ripristinarlo immediatamente con un clic, nella sua posizione originale oppure scaricandolo in locale.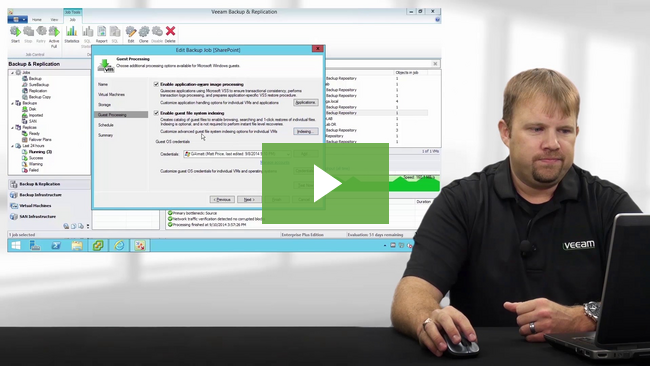 1-Click Restore
Ripristino automatico di VM e file
Le nuove opzioni di delega consentono ai reparti IT di demandare in modo sicuro il ripristino dei file e delle VM ai responsabili delle unità di business. Inoltre, il personale dell'helpdesk non richiede permessi speciali, poiché può semplicemente trovare e ripristinare i file nella loro posizione originale senza dover accedere al loro contenuto.
La funzionalità 1-Click Restore consente di ripristinare automaticamente VM e guest file senza:
Connessione di rete diretta alla VM
Permessi utente sull'host o sulla VM
Un agente nella VM
Una delle nostre funzionalità preferite è 1-Click Restore. Ci consente di ripristinare intere VM e singoli file, e abbiamo la possibilità di delegare il ripristino a utenti designati
Backup e ripristini per vCloud Director
Integrazione completa con vCD
Utilizzando l'API VMware vCloud Director, Veeam estende il supporto per vCloud Director fino a includere backup e ripristini dei metadati e degli attributi delle vApp e delle VM, e i ripristini direttamente sugli stessi ambienti vCloud Director o su ambienti diversi, con il supporto per il fast-provisioning.
Il supporto migliorato per VMware vCloud Director semplifica la gestione e migliora l'efficienza per i service provider che offrono servizi di Infrastructure as a Service (IaaS) dotando i tenant delle funzionalità di backup e ripristino self-serviceNOVITÀ.
… La solida integrazione di Veeam, abbinata alla competenza di GreenPages nella soluzione architetturale composta dalle soluzioni vCloud Director e vCloud Suite rappresenta una combinazione vincente per la reciproca base di clienti. Siamo molto lieti di poter sfruttare Veeam in modo ancora più completo nelle successive implementazioni di vCloud Director.
Guarda i webinar registrati
Sessione dal vivo o registrata con un System Engineer Veeam
Provalo subito
Provate gratuitamente Veeam per 30 giorni
Come acquistare
Opzioni di licenza, prezzi e pacchetti