High-Speed Recovery
Achieve RTOs of <15 minutes!
Backup is nothing without recovery. From a single image-based backup, Veeam® Backup & Replication™ provides a wide range of capabilities that can help you tackle virtually any recovery scenario. Best of all, Veeam ensures you get exactly what you need—virtual machine (VM), file-level and application-item recovery and eDiscovery — when you need it through its agentless, easy-to-use and wizard-driven UI.
Direct Restore to Microsoft AzureNEW
Part of Veeam Disaster Recovery in Microsoft Azure
Direct Restore to Microsoft Azure delivers cloud restore for Veeam backups to optimize resource allocation and minimize cost. This feature enables users to take on-premises VMware and Hyper-V VMs, physical servers and endpoints and restore or migrate them to the cloud using an automated P2V or V2V conversion process.
The ability to restore your backups directly to Microsoft Azure means you can optimize your resource allocation and leverage Microsoft Azure as an on-demand cloud data center for disaster recovery (DR), taking full advantage of Azure's flexible and scalable cloud resources.
Veeam Disaster Recovery in Microsoft Azure
Direct Restore to Microsoft Azure works closely with Veeam PN for Microsoft AzureNEW, a free solution designed to simplify and automate the setup of a DR site in Azure, using lightweight, software-defined networking (SDN). The two solutions combine to deliver Veeam Disaster Recovery in Microsoft Azure.
Instant VM Recovery
Recover a failed VM in less than 2 minutes!
With Instant VM Recovery™ you can run any virtualized application on VMware vSphere or Microsoft Hyper-V directly from a backup. Instead of making users wait while you provision storage, extract the backup and copy it to production, you can simply start a VM with Veeam's patented vPower® technology. After that, use VMware Storage vMotion, Hyper-V Storage Migration or Veeam's proprietary Quick Migration to move the VM back to production storage.
While many vendors claim to be able to recover a VM quickly, not all VM recovery solutions are equal. Veeam's Instant VM Recovery:
Delivers first-to-market technology proven by tens of thousands of customers worldwide
Supports both vSphere and Hyper-V, and is storage agnostic
Does not require additional VMware Storage vMotion licensing
Learn more about Instant VM Recovery
Little did we know that Veeam's Instant VM Recovery capability would later save the day after a fire at our Corby site in the UK.
Veeam Explorers
eDiscovery and granular recovery
Application-item recovery just got a lot faster and easier. Zero in on exactly what you need to recover and restore individual items directly from your backups with:
The most common restore at our company is for items that users accidently delete in Microsoft Exchange. With Veeam, we search for the users' mailboxes, find the items (usually emails), and restore them back to their mailboxes in minutes.
Instant File-Level Recovery
Recover files directly from a backup
Recover guest OS files and folders on the fly directly from an image-level backup — without the preliminary step of extracting virtual disks. Recover files from Windows and Linux VMs, or any of the 17 supported guest file systems.
The overall speed we get with Veeam Backup & Replication is amazing. VM backup speed increased by more than 50 percent … VM recovery takes less than five minutes … and single-item restore is 10 times faster.
Free trial
Veeam Availability Suite 9.5
No feature limitations for 30 days!
U-AIR (Universal Application-Item Recovery)
Recover application items without agents
Recover items from ANY virtualized application without agents, additional backups or software tools. The U-AIR wizard helps you start your applications from the backup recovery point and extract what you need with native application tools — no special backup agents or additional license fees required.
Learn more
Guest OS file indexing and search
Pinpoint and recover files quickly
Veeam Enterprise Manager enables you to search for guest OS files in VM backups and restore them with one click. With this option selected, Veeam Backup & Replication creates an index of VM guest OS files and allows you to search for Windows guest files in the VM backups. Once you find the file you need, you can immediately restore it with one click, either to its original location or download it to a local machine.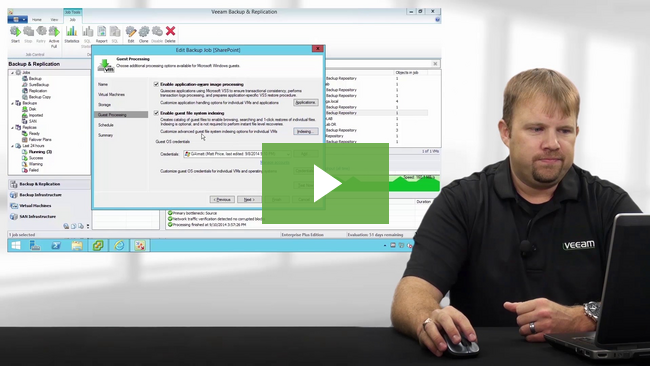 ​
1-Click Restore
Self-service VM and file recovery
New delegation options let IT departments safely empower business unit managers for recovery of their own files and VMs. In addition, delegated help desk personnel do not require additional permissions — they simply find and restore files back to their original location without having access to file contents.
Use 1-Click Restore self-service recovery of VMs and guest files — without the need for:
Direct network connection to the VM
User permissions on the host or VM
An agent in the VM
One of the features we like is 1-Click Restore. It lets us recover entire VMs and individual files, and we have the option of delegating restores to designated users.
Backup and recovery for vCloud Director
Complete integration for vCD
Using the VMware vCloud Director API, Veeam extends support for vCloud Director to include backups and restores of vCloud vApp and VM metadata and attributes as well as restores directly to same or different vCloud Director deployments, with support for fast-provisioning.
Enhanced support for VMware vCloud Director simplifies management and increases efficiency for service providers with Infrastructure-as-a-Service (IaaS) offerings by empowering tenants with self-service backup and restore capabilitiesNEW.
… Veeam's solid integration combined with GreenPages' expertise in architecting vCloud Director and vCloud Suite solutions will be a winning combination for our mutual customers. We are very pleased that we can leverage Veeam more fully in our vCloud Director deployments moving forward.
Watch product demo
Live or recorded session
with a Veeam System Engineer
Try now
Put Veeam in your lab
How to buy
Licensing options,
pricing and packaging