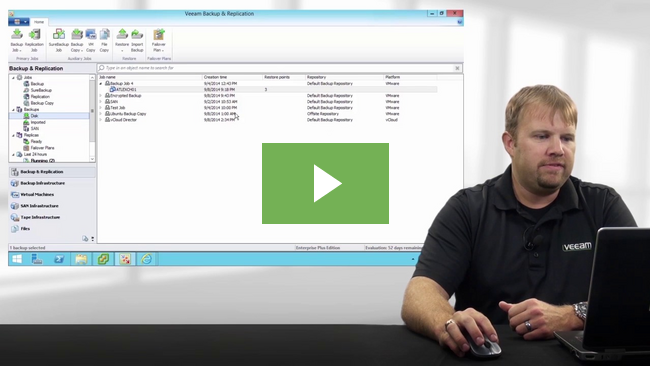 Instant VM Recovery® helps maintain system availability when you need it most. Instead of making users wait for hours, Instant VM Recovery immediately restores a virtual machine (VM) back into your production environment by running it directly from the backup file to:
Maintain low recovery time objectives (RTOs)
Minimize disruption
Minimize system downtime of crucial production VMs
Product Overview
What's New in 9.5 (ONE)
Editions comparison
What's New in 9.5 (Backup)
It's easy to use. Instead of having to provision storage, extract the VM backup and copy the content to production - it restarts any VM directly from the backup instantly. With Veeam®, you can recover a failed VM in as little as 2 minutes!
Instant VM Recovery uses patented vPower® technology to mount a VM image to a production VMware vSphere or Microsoft Hyper-V host directly from a compressed and deduplicated backup file.
Since there is no need to extract the entire VM from the backup and then copy it to production storage, you can restart the VM from any restore point (incremental or full) in a matter of minutes—as opposed to hours with normal restore, significantly reducing your recovery time.
The backup of the VM remains read-only to preserve its integrity. Changes are stored separately and merged when the VM is migrated back to production storage.
Veeam's Instant VM Recovery lets us restore a VM directly from a backup in just a few clicks. Anyone in IT knows that when you're in a disaster situation, having an easy-to-use product is really important because it reduces stress and anxiety in an already nerve-racking situation.
Watch product demo
Live or recorded session
with a Veeam System Engineer
Try now
Put Veeam in your lab
How to buy
Licensing options,
pricing and packaging